British Engineer Came to the Factory for Inspection
Views:6 Author:Site Editor Publish Time: 2018-11-28 Origin:Site
Today, I would like to introduce to you our new machines launched this year: Hoop Locking Ring Roll Forming Machine.
Our new development products hoop locking ring roll forming machine use full automatic system and add a bending part after sections form. The usage of this machine is for car industry. The flat sections Can bend round sections use our hoop locking ring roll forming machines.
There are two modes of operation:manual and automatic. With manual and automatic functions: in the manual state, can stand-alone operation, easy maintenance. In the automatic state, the full range of production run, the order to start; Full line with emergency stop button, easy to deal with emergencies, to ensure that equipment and operators Safety.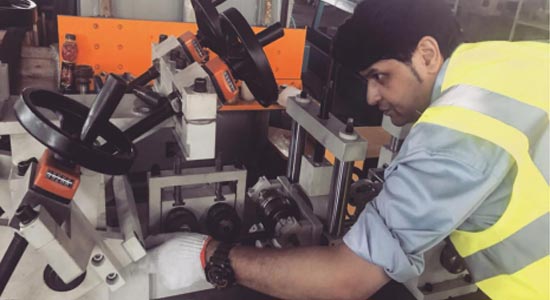 There is a manual operation panel next to the operator to facilitate the operation of the workers.
This barrel hoop making machine can auto roll forming, bending and cutting rings at the same time. This hoop forming machine can be designed together with butt welding machine constitute steel rim forming and butt welding production line. This Circle Machine and Winding Machine is suitable for manufacturing barrel hoops, locking ring, clamping ring, Drum closing ring of metal drum. Our barrel hoop line is special designed for heavy steel barrel hoop, The whole line frame adopts high quality steel profile, and the important machine parts are all purchased from world famous companies to guarantee the good quality and performance.
With Our manufacturer more than 15 years experience, we have full ability to design and supply different kinds of steel circle barrel hoops according to client's request. If you have any request, please feel no hesitation to contact us.