ROLL FORMING MACHINE AT BEST PRICE IN CHINA
Views:11 Author:zhangyun Publish Time: 2019-01-03 Origin:Site
A roll forming machine is designed to fabricate specific configurations out of long strips of metals (especially cold steel). These machines are designed with specifications for the type of rolls it will produce. It does this by bending these metals at room temperature, guided by a number of fixed stations.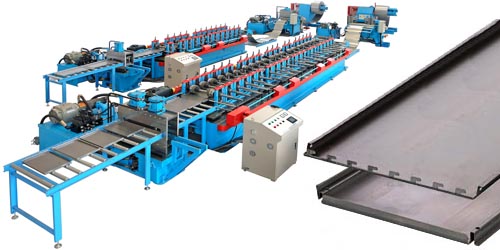 As materials are fed into the machine, it works in a continuous cycle. This cycle is in stages, leading up to the final product. Apart from roll forming, this machine also cuts metal, it perforates, notches and does roll punching, including many others. These machines are also great for producing final products that require no finishing.
Interestingly, the roll forming machine market exists in China, North America, Europe, Japan, India, and Southeast Asia. In the past few years, the market in China has experienced an exponential growth. This growth led to springing up of many roll forming machine companies in China.
Globally, the trend in the growth of this market is seen to be impressive. In the short time of its existence, the market has continued to experience development and shows signs of keeping up the pace.
In China…
There is a wide range of machine options to choose from. From the colored steel to the colored glazed steel and glazed steel machines, the choice is no problem.
As for types, your options include Single Duty Roll Forming Machines, Standardized Rolling Machines, Double Headed Machines, and Rafted Machines.
The price of budget-friendly machines that are made in China ranges from $1000 to $2000. These prices could go higher or lower depending on where you buy from. Be rest assured though that, most Chinese companies produce good quality machines, that you will find are useful for the various purpose.
Meanwhile, the speed of the process and the continuous cycle are some of the reasons for the low cost of these machines. Thus, they create higher volumes, which reduce the cost per part. Apart from producing better finishing, the products of roll forming have higher uniformity of parts and tolerance. It is also high on accuracy and consistency. Thus, it is great for making products that require a high level of precision.
Like machines designed for roll forming across the globe, the best price machines in China have the unique advantage of producing two different materials simultaneously. This process creates composite parts which you will find very durable, with a high level of tolerance.